Vaccination drive at NBF
Inoculation has become the need of the hour in India, especially after the second wave has resulted in hundreds of thousands  deaths. To ensure safety at workplace, the HR has rolled out its most critical activity to fully vaccinate all its employees and workers at NBF. The company rolled out 100% vaccination even for its third-party employees and vendors for wellbeing.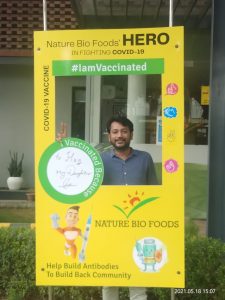 NBF  also conducted random testing for 72 employees on May 27 to ensure complete safety for employees in the factory. Additionally, NBF organized various Covid training and social distancing norms issued by the Government of India. They also encouraged 100% work-from-home options for all the employees and office staff and 50% attendance for factory operations to safeguard their employee's health.
They conducted training on regular basis, prohibited visitors, monitored temperatures at entry points, and sanitized all of their offices and factories periodically. Touch-free paddle-operated sanitizers are kept at places for employees to sanitize themselves at regular intervals. They have also initiated doctor consultations for the mental wellbeing of their factory employees along with vaccination at Sonipat and Bhopal.
The HR team is further driving the agricultural team to motivate farmers and farming families for a checkup at regular intervals.
Celebrating World Environment Day
To protect the environment and bring about eco-friendly changes, the HR department took plantation initiatives on World Environment Day. To commemorate the day, NBFL planted 25 Ficus trees at two factories in Sonipat and Bhopal on June 5. A total of 50 Ficus trees were planted at both locations to provide fresh oxygen round the clock.