Welcome to Nature Bio Foods Ltd. (NBFL).
Nature Bio-Foods Ltd(NBFL) is pioneer in organic business in India & well recognized worldwide for its long years of remarkable performances, quality products and trustworthiness. NBFL has come a long way to establish itself as the leading organic company in India. Nature Bio-foods Ltd is a wholly owned subsidiary of LT Foods Ltd (LTF). We passed more than 40 years of remarkable and glorious period in rice business making LTF as one of the most experienced basmati rice companies in the world. NBFL is the dedicated company of LTF devoted to control its organic business operation and cater excellent services to customers. Our Success is resulted from our dedicated involvement in all organic operation, farm production, manufacturing, packaging and marketing.
BUILDING TRUST BETWEEN CONSUMERS & FARMERS
"The history of company goes back to year 1997. 19 years later, our passionate journey continues; we are deeply involved in the lives of over 80,000 farming families, bringing radical social, economic, and environmental development to their communities"
Nature Bio-Foods Limited created a business model based upon a sustainable business concept of linked prosperity, combining social, product and economic values. We sum it up as 'making the best possible organic products in the nicest possible way'. Our model is an example of how collaboration among different business and development actors can increased transparency in trading relationships, & generated efficiencies that have helped farmers increase their incomes. We have proved that there can be alternative supply chain practices. We have shown through our business models that farmers are no longer just suppliers of a raw commodity, but can be true partners in the business operations.
Years of committed work enabled us to extend organic cultivation in thousands of hectares of land. Over thousands of farming families joined hands to convert thousands of hectares of land for organic production in the diversified climatic and soil conditions from the foot hills of the Himalayas to the central and southern part of the Indian Subcontinent. Mother Earth is being nourished with all the good practices of the organic farming to produce the best quality products. The strong commitment of NBFL with the farming community for the organic production, followed by high standard quality production and quality control system has resulted in the success of organic business spreading its finest quality products to the consumers across the world.
Live ecoLife
Our organic foods Brand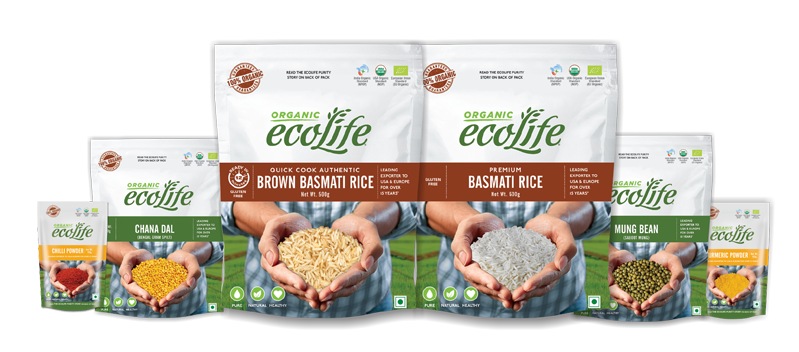 Many Years of Pioneering work of Nature Bio-Foods Limited has brought the most authentic organic products of International standard from its organic farms to the plates of all the truly health loving consumers. Nature Bio-Foods Ltd has pioneered the organic grain production, processing, packaging, storage, sales and distribution of organic products across the world. It has developed one of the purest Organic brands "Ecolife" from one of the world's largest and most integrated organic food supply chain with dedicated involvement of over 80,000 farmers to carry out the noble work of Organic Farming to produce pure food crops.
Our Organic products are controlled and monitored by the Independent Certification Body accredited by the Government of India as Per Organic Standards (NPOP) as well as International Organic Standards of European Union, USA, Canada, Germany, Switzerland, Japan and Korea. Strict Quality control and Food Safety Systems are followed like FSSAI, FSSC 22000, BRC and IFS including testing of the products in world renowned laboratories around the world to guarantee the Pure Quality of our Products.