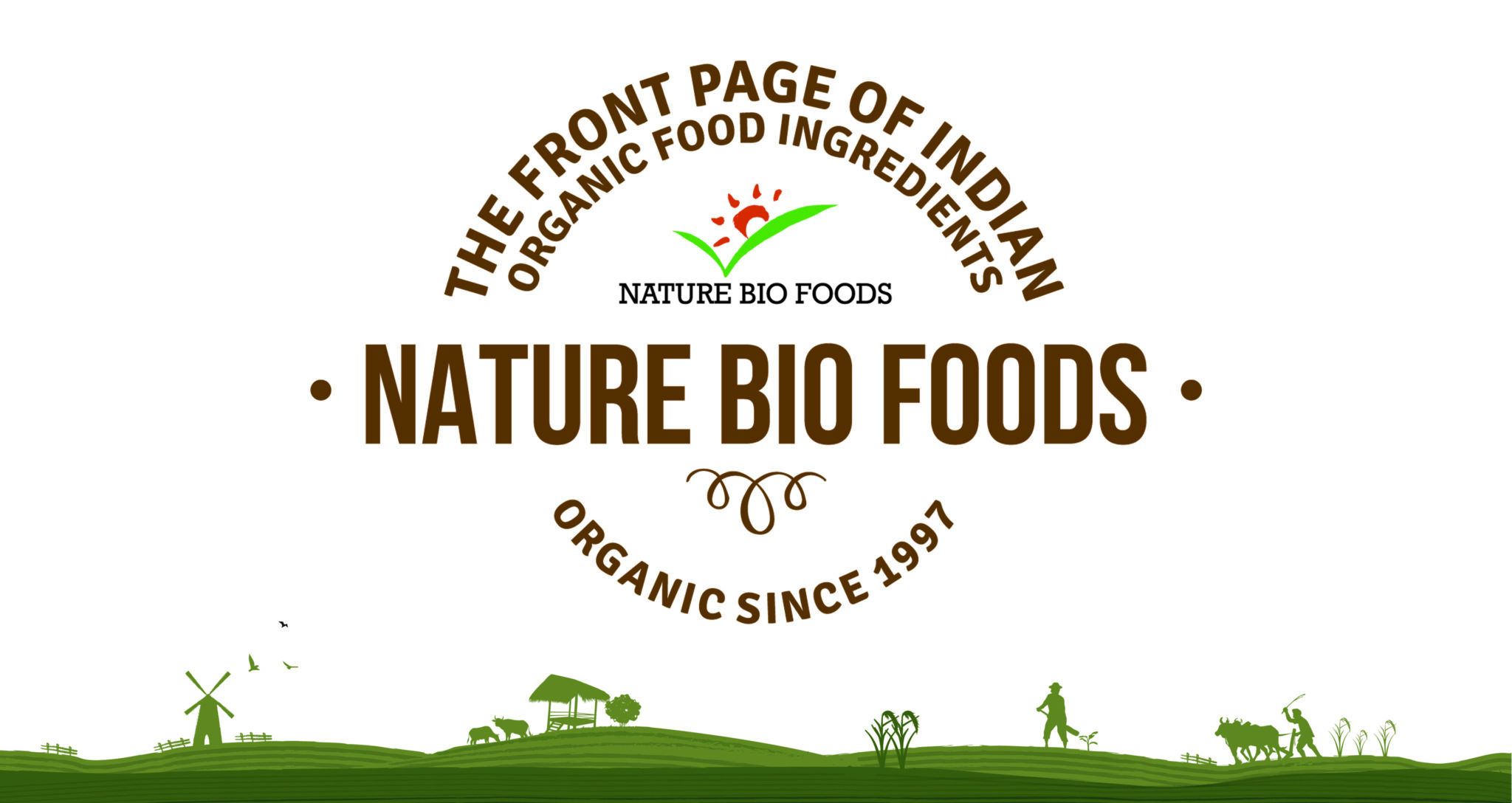 The Front Page of Indian Organic Food Ingredients
Nature Bio Foods (NBF) has been a leading advocate for sustainable agriculture and organic farming practices in India for over three decades, and their efforts have earned them a reputation as pioneers in producing, processing, and supplying organic ingredients to customers around the world. The company has invested significant time and resources in promoting the development of remote villages across various states in India, with a particular focus on promoting holistic growth, creating value, and ensuring economic and social sustainability.
With growing awareness around the adverse effects of using synthetic chemicals and fertilisers, more and more farmers are adopting sustainable farming techniques. The National Centre for Organic & Natural Farming (NCOF) reports that there are currently 3.56 million hectares of organic farming land in the country, and Nature Bio Foods is proud to be one of the largest contributors to this growth, with 100,000 hectares of certified organic farmland.
At every stage of the organic supply chain, Nature Bio Foods places strong emphasis on value creation. This approach has helped the company establish a strong family of 75,000 farmers, who now serve as its backbone. NBF's efforts to promote organic farming in India have been driven by a commitment to build strong partnerships with farmers and empower them to adopt sustainable farming practices. The company provides farmers with access to training programmes, resources, and market linkages, enabling them to grow organic crops and earn livelihoods.
The company's focus on sustainable agriculture has not only helped farmers increase their yields and improve the quality of their soil, but it has also led to a more sustainable and environment-friendly approach to farming. Notably, the company runs one of the largest Fairtrade programmes in the country and supports farmers with a Fairtrade Premium for their organic crop yield.
NBF has distinguished itself as the first company to attain Fairtrade certification for flaxseed cultivation, while facilitating equitable prices for small-scale farmers engaged in the production of this low-yield crop in India.
The company has partnered with several international certification bodies in promoting organic farming in India. It has under its umbrella, thousands of small landholder farmers from the rural hinterlands of Uttar Pradesh, Rajasthan, Bihar, Madhya Pradesh and Orissa, who grow crops such as red lentil, Basmati paddy and soya by practising regenerative organic farming, which is also certified.
NBF's Regenerative Organic Certified produce is not just revitalising the soil and ecology but is also giving organic consumers the option to buy certified regenerative produce.
The company has helped its farmers obtain organic certification for their lands through various certifying bodies such as NOP (National Organic Program), Naturland, Demeter International, Bio Suisse, KRAV, ROA (Regenerative Organic Certified), and Skål, among others.
Moreover, NBF's consistent efforts in the organic food ingredients space have gained recognition from not just the aforementioned organic bodies but also food safety certifying bodies such as FSS (Food Security Standard), IFC, BRCS (British Retail Consortium), and GMP (Good Manufacturing Practice), among others. The company has set the highest standards for safe processing and secure storage of ingredients in the organic food industry in the country.
NBF's work in the organic food ingredients space has also caught the attention of global consumers, who now prefer to buy Indian organic ingredients. Further, in order to swiftly address the needs of organic brands and food producers in Europe and the USA, the company has formed its local offices in both regions. Today, the company has partner bases in 27 countries that place trust in NBF by procuring Indian organic food ingredients.
The company has maintained global quality standards in food ingredients through its 5 state-of-the-art processing units that boast a grain processing capacity of 1,25,000 metric tonnes per annum. In order to uphold trust in its huge partner base, NBF has ensured rigorous quality benchmarks in each step of the organic supply chain, which includes getting its ingredients tested from global laboratories such as Eurofins.
Nature Bio Foods has the widest range of 120 organic and many non-GMO (Genetically Modified Organism) products under its 12 products categories. On the company's farms, spread from the Himalayan foothills to the fertile Indo-Gangetic plains, are grown a range of organic produce—from rice, cereals, to oilseeds and flaxseed, pulses and other dry organic ingredients. The company has also diversified across verticals, offering a range of certified organic derivatives, including sweeteners and spices.
Today, NBF stands strong on its core values of delivering authentic organic produce to the world by practising sustainable techniques of supply and production as it enters a new age of conscious consumerism. Its commitment to farm innovation, sustainability, and transparency has helped transform the organic landscape and continues to drive the growth of organic farming in the country.
By empowering farmers and endorsing sustainable farming practices, the company has created an environmentally conscious and socially responsible approach to agriculture. Working closely with farmers and promoting sustainable practices, Nature Bio Foods is not only helping to create a more sustainable future for agriculture in India, but is also catering for the growing demand for organic products worldwide.