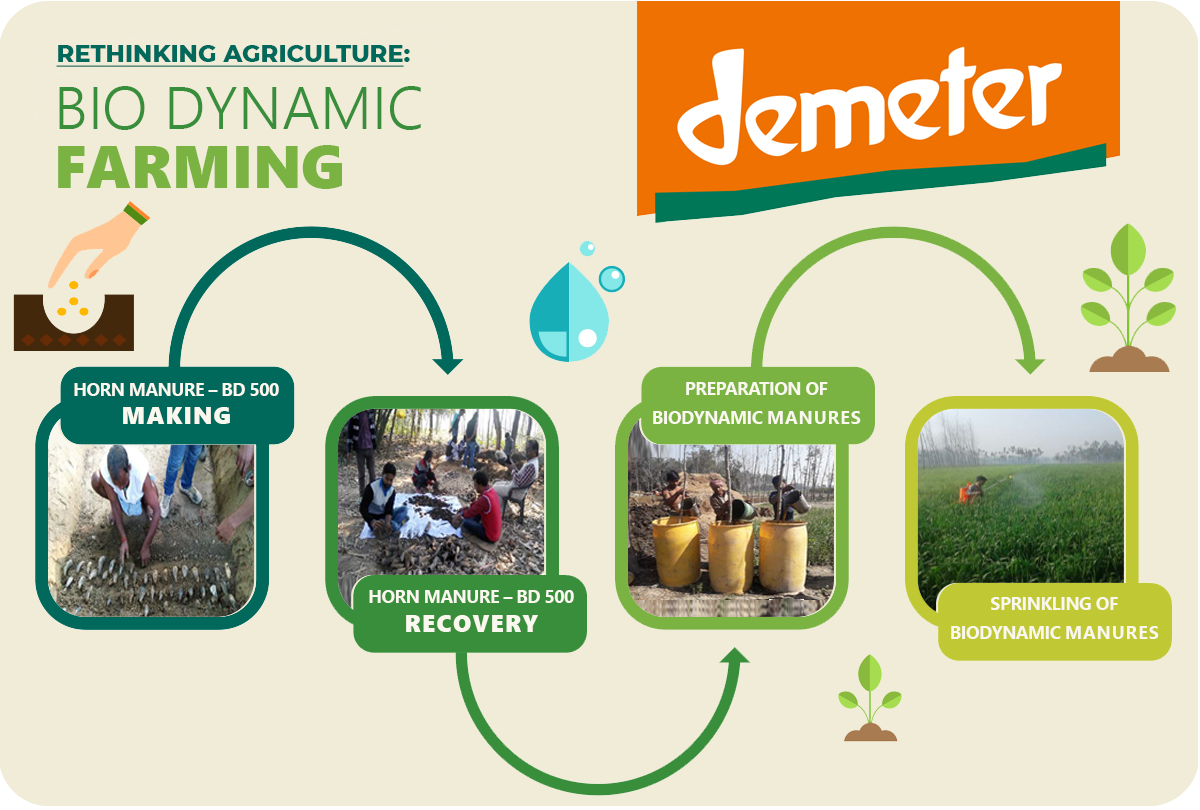 In April 2016, under professional guidance and supervision Nature, Bio Foods started with BioDynamic farming achieving yet another milestone – Demeter Certification.
To be Demeter Certified one has to be a part of the BioDynamic Project.
"BioDynamic Project under NBF has 550 registered farms located in District Bahraich, Uttar Pradesh under it." 
The farming system in that area experiences hot and temperate climate, with an average rainfall of 1125 mm, suitable for all kind of cereals crop.
The organization planned and executed the use of the BD-Preparations in all Organic registered farms based on "Demeter Production Standards" as well as supervision and training the farmworkers.
During three years of dedicated efforts of the team, core guides & associated farmers have made the desired number of BD composts & other
formulations that fulfill the requirement of the BioDynamic process & their respective production.
All the compost heaps are inoculated with required BD preparations (BD 502-BD 507). The heaps are made of different layers using FYM, Minerals, Plant parts/green materials, BD preparations & Bio-cultures. The entire process takes 50-60 days. The organization, apart from this, is also involved with the on-farm production of Horn manure in Rajapur village.
The list of products that have been Demeter certified under the same is traditional Basmati, Non-Basmati (long-grain, broken, medium grain), mustard, lentil, coriander, black gram, and linseed.
All the registered farms will continue to practice Bio-Dynamic farming methods by spraying Horn Manure, Horn Silica, CPP Manure as foliar, and preparing Bio Dynamically treated FYM. These farms will continue these practices in both Kharif and Rabi season crops to fulfill the standards for the Demeter certification.