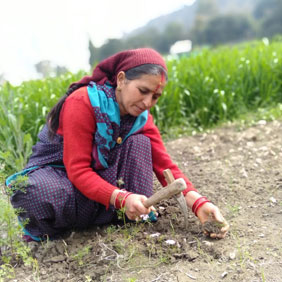 This is Radha Badhani. Her story is struggling yet inspiring. When we (NBF) learned of Radha's heart-wrenching story, we decided to pitch in. Now, Radha grows Dehradun Basmati rice using the organic methodology. We approached Radha and explained how to cultivate on her land and what is expected of her in terms of quality by NBF. She has been at it for about 3 years now and her journey ever since has been that of a better life and better future prospects.
Radha has been trained on how to produce quality rice. She has been taught how wide spacing plants gives them better air, sunlight and space to grow resulting in a quality produce. NBF has made efforts to turn Radha into a better tiller with each produce. The rules and regulations of organic farming had been explained to Radha along with its benefits. Today Radha Badhani is a much happier and a healthier person. She is happy about the organic farming which is helping her family being healthier too. She shares the same with the rest of the villagers how growing hybrid and chemical treated produce was creating more damage than helping.
After her association with NBF, the representatives of the company have guided them and motivated them to adopt the SRI technology to grow the basmati rice. The quality of the soil too has improved sans the chemicals and the pesticides and by adopting SRI technology. The wide space between the plants yields healthier crops.
Producing is. one part of the difficulty getting a fair price for the produce is another and a more imperative one as the growth factor is dependent on that. NBF has made sure that Radha doesn't have to struggle or worry about that. A fair market price is offered to Radha which leaves her more than satisfied and working harder for next produce keeping the organic fundamentals in mind.
NBF not only buys the paddy from Radha but also makes sure she gets fair market price and hence marketing her produce.
The efforts put in by Radha never goes in vain, infact she has been able to support her children and her husband by sending them to school and hospital, respectively. Her children venture out today also but not to go to collect wood for fire or the field to plough but towards school, towards a better tomorrow.