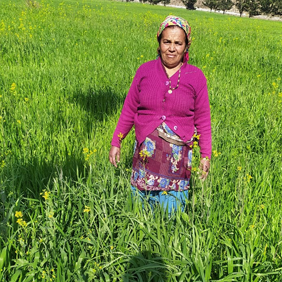 This is a story of Munni Devi who is a 47 year old lady. She lives in a village called Kyari, district Nanital. She owns about 1 acre land and lives alone. Her husband left he at the age of 43. Her husbandwas a compulsive drinker. With nothing in Hand other than the piece of land Munni would often go hungry. Some villagers would come forward and help her with food and clothes. She was abandoned by her two sons who worked in the city. Looking at her plight her fellow villagers extended their help by introducing her to another fighter woman called Neema Sati from the same village who too had a tough past but was much better now after her association with NBF.
To begin her life at the age of 43 was very scary for Munni Devi. To manage one meal a day was becoming difficult for her, to be able to work on a field to yield crops she could not even fathom. When she visited the NBF office and she heard of the new technology and the chemical free crops she wasn't too sure of herself. This was challenging her years old knowledge on farming techniques.She wavered a lot initially. As per the conventional method, the requirement of water was more, the efforts required in cultivating were tough but with SRI technology, the water requirement is less and the procedure not so lengthy. The uniqueness of SRI method lies in not using the chemical pesticides and herbicides. The meritorious points being that its high on Saving water, chemical fertilizers & pesticides, inducing a higher yield at the same time. These factors are excellent agents to manage the cultivation of Paddy under SRI technique. SRI Paddy Cultivation involves less expenditure, thus it is beneficial. The production of 2-2.5qt per beegha is very common with SRI which is much higher than conventional method. In SRI, Seedlings are planted at wide spacing making it a quality produce.
Getting acquainted with the new technology took sometime but once the first paddy and soybean crop yielded Munni Devi had grasped the technology and its mandatory requisites. The cultivation process is a long one if it Is followed in the conventional method. However, with the SRI technology the paddy and soybean crop was ready in much less a time frame. With the produce ready now the challenge was to take it to sell which when Munn Devi learnt was a doorstep service provided by NBF she was way beyond relieved. The crop not only got picked up but also got fair market price for it.
Its been years since Munni Devi has been associated with NBF and her world has become that of quality like the produce that she yields every year. Her younger son has joined her in the venture and the two of them look at better prospects for the family.
Munni Devi is so thankful to her villagers for the support extended to her by them. She beams with pride and joy knowing that here produce is not just par excellence but also that she is contributing in making the world an excellent place with utmost quality.