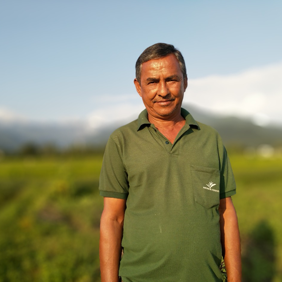 This is one inspiring story of a man who turn around his life.
Bahadur Singh Bajwal, a rice farmer in the Himalayan region of Uttrakhand, Dhamardevi village, kotabagh is 50 years old, married, and has five children. He was barely scraping through and to add his woes the continuous wavering paddy prices made his life unpredictable and insecure. Even with a good produce he wouldn't get a fair price, not even enough to cover his expenses. He got more and more caught up in the vicious circle of higher production cost, debt and poverty with the kindled hope of the situation changing someday. Until he was introduced to Organic farming courtesy Nature Bio-Foods Limited in 2011, and there has been no turning back ever since. Organic farming forbids pesticides and chemical fertilizers to be used on the crops. This changed the financial graph for Bahadur Singh. The cost of buying chemical pesticides had diminished ever since he Joined the Fair Trade which has made a tremendous impact on his family's situation.
Now he is an integral part of progressive farming spreading this awareness amongst his fellow farmers. He practices organic farming from Ramnagar (Uttrakhand) and Is also presiding as the president of the Producers Association (Fair Farming Foundation Ramnagar) formed by the Nature Bio-Foods Ltd. The main agenda of this group is to safeguard the interests of the farmers in the said region. Fair Farming Foundation Ramnagar production of organic Basmati was Fairtrade certified in 2011. It aims to help small-scale rice farmers benefit from the Fair Trade rice market and the viable alternative trade strategy. Currently, 988 farmers are associated with Fair Farming Foundation Ramnagar.
The enterprising Bajwal was chosen to represent at the, Network of Asian Producers (NAAP), General Assembly meeting at Colombo Sri Lanka in 2014. The meeting was an opportunity for representatives from Fairtrade certified producer groups located in Asia, including the Pacific Island countries, to come together and share their ideas, to discuss the evident progress, and make plans for the future. Bajwal, impressed everyone at the meet and was elected to serve as a NAAP Board member, which gave him a platform to be heard as an Asian and strengthen the position.. Since then, he is serving as the board member.
A local farmer from a remote location in the hills of Uttrakhand has made a mark for himself and is now working as a part of a global organization aiming to secure a better deal for farmers and workers in Asia Pacific making it a big achievement for him as well as for his farmer association. Being the NAPP board member, he had the opportunity to travel to various countries like Sri Lanka, Thailand, UAE & Malaysia many times.
Bahadur Singh Bajwal Said that he felt progressive and a part of development ever since he associated with Fair Trade. He says that his revenues have been just adequate but fairly paid which further allows him to invest and grow. Through the opportunities he has got to travel he has amassed a lot of knowledge by meeting other farmers and buyers across the globe. This has changed his perspective on various things.This exposure offers him new opportunities & a confidence that he can learn new things, implement them and make something of his own life and his society.
Agriculture implements & inputs like winnower Fans, Tractor, cultivator, spray pumps, Bio-Inputs purchased from Fair Trade Premium, elevated his family income furthering the efficiency. Now on his 2 acres farm with organic technique, he can produce 36QT of paddy. BS Bajwal reflected on the difference Nature Bio-Foods has: 'The impact NBFL has Made in my life is really something to thank and appreciate."He further added that, '..more than 90% of our members have had an access to training on how to practice good agriculture techniques, access to subsidized bio inputs that have greatly improved productivity and our working conditions. The Fair trade Premium has been used by the farmers for various community welfare programs , women empowerment, taking a step towards eradicating illiteracy and for imparting computer education to children at the doorsteps of far flung areas of Ramnagar (Betalghat) to keep them abreast with the changing times, for a community where computers are a dream, availability of such opportunity is almost heaven-sent", improved school infrastructure, solar lights, farm mechanization, Sewing centres for women, Solar fencing wire to protect farms from wild animals are some of examples which are upgrading the lives of associated farmers & their family members.
The benefits tangible upon which an assessment can be made: Fair price, better access to education, workplace democracy, community development, women's empowerment, agricultural improvements, income diversification, and a host of others. "It was imperative for me to witness it," Bajwal says. "I've gained perspective of the rice industry. Now I have a vision of the heights that Utrakhand can accomplish.
The farmers, who are a vital part of our project, may lead simple lives but their targets are clear, ambitions high. They still believe in the century-long Indian tradition in growing ace quality rice so that it not only satisfies the consumers taste buds but also the quality isn't compromise. I am happy that Nature Bio-Foods ltd is committed to improving the livelihood of communities through the sustainable production of Fairtrade Certified rice. My life is an example of progress ever since my association with NBFL. For me & for producers involved in Fair Trade partnerships through NBFL, It is about quality produce, better prices, decent working conditions, local environmental sustainability, and fair terms of trade. I am proud to be associated with Nature Bio-Foods Limited"